7.11.2020
VAKUUM is broadcast on Swiss television. The film will be shown on November 30, 2020 in the evening program of SRF 2 at 10:55 p.m.
1.6.2020
Christine Repond will direct episodes three and four of Zurich's new "Tatort" series. The shooting will take place in Zurich next year. Swiss radio and television (SRF) has commissioned the production company Contrast Film. (Bild: ©SRF)
7.11.2017
The world premiere of VAKUUM takes place in the competition of the Black Nights Film Festival in Tallinn, one of the few European A film festivals, in the presence of Barbara Auer, Robert Hunger-Bühler and producer Karin Koch.
Read more: World Premiere of VAKUUM at the Black Nights Film Festival in Tallinn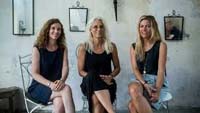 17.8.2018
Christine Repond, Irene Genhart and Sue Meures form this year's jury of the Semaine de la critique at the Locarno Film Festival, the largest Swiss film festival.
Read more: In the jury of the Semaine de la critique at the Locarno Film Festival